65th Europa Forum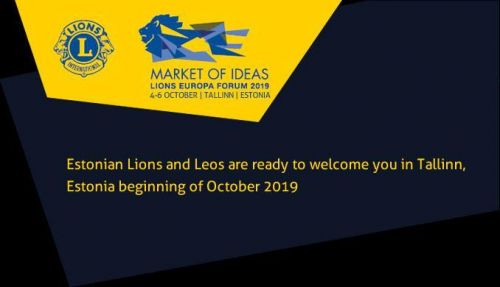 Venue: Alexela Concert Hall, Tallinn, Estonia
When: 3rd to 6th October 2019
Host: District 120 Estonia
Theme: Market of Ideas
About the 65th Europa Forum
Registration is only available on-line from a secure website via the official Forum Website. Registration fees prior to 1st July 2019 are for Lion members €240.00, Non-members €190.00 and Leos €80.00. From the 1st July 2019 the fees for Lion members and None-members will increase to €300.00 and €250.00, respectively.
The Gala Dinner and Warm Up Evening are optional at an additional cost of €105 and €40 per person, respectively.
There is also a package currently on offer that includes registration, all the functions, three lunches, a city tour and three nights accommodation at the Original Sokos Hotel Viru. However, the cost of additional nights accommodation to accommodate flight times coupled with the fact that prepayment is required with an onerous cancellation policy does not in my opinion make this particularly attractive for us. We can do better by "picking your own package" and following the accommodation advise below.
Two hotels Original Sokos Hotel Viru and Solo Sokos Hotel Estoria, are offered by Reisieksperdi AS the officially appointed travel agents via the official forum website. These comprise of packages for varying lengths of stay but once booked require full payment with an onerous cancellation policy. From my investigations it appears that better prices with flexible conditions are on offer for both of these hotels by using a specialised comparison site such as Trivago or Kayak. I have booked the Original Sokos Hotel Viru on this basis.
There are a range of excursions on offer that are book-able via the official Forum website.

It appears that there are no direct flights from any London Airports that get you to Tallinn on 3rd October in time to attend the Warm Up Evening. So if attending this function it is necessary to travel on 2nd October when you have the choice of two airlines either Ryanair from Stanstead or airBaltic from Gatwick. Both airlines have return flights on the Monday following the Forum but remember that Ryanair do not now allow a cabin bag. Current (May) cost of a return flight including hold baggage is around £128.00 for Ryanair and £143.00 for airBaltic. Other airlines providing a direct flight to Tallinn are WizzAir from Luton and EasyJet from Gatwick but both will require extended stays to accommodate their flight days.
Clicking on the link below will take you to the official Forum website where more information can be found.

If members attending can let me know I will ensure that you are kept advised directly of any changes or developments as they arise. Equally, if you require any further help or assistance please do not hesitate to contact me.
Lion PDG Barrie Richardson
International Relations Portfolio Co-ordinator
intchair@lions105d.org.uk
For more information visit the Official Europa Forum 2019 website