Young Leaders In Service
The Lions Clubs of our District are pleased to participate in the Lions Young Leaders in Service Award (LYLSA) scheme. The LYLSA scheme is part of the Lions Opportunities for Youth initiative. The LYLSA recognises young people between the ages of 11-18 years old for their community service within a 12-month period; a log sheet is completed and signed off by a responsible adult. This can be a teacher, youth leader or someone similar. Lions Clubs may recognise as many young people as they find eligible. The youngster is then presented with a beautiful certificate and this can be included in his or her Record of Achievement File.
Each young person will be provided with a logbook in which to record their service activities. These activities are in a number of different categories - all the hours can be from the same activity or from a variety of services. Categories include service to the young, the elderly, family members and the homeless and hungry. It could also include protecting our environment. Young people may also wish to assist their local Leos or Lions club in fundraising or welfare activities. All these activities count as hours towards the award.
The Young Leaders in Service are sponsored by local Lions clubs. The awards available are as follows:
50 hours of service = Silver Seal Award
100 hours of service = Gold Seal Award
25 hours of service = Bronze Seal Award (this is a local award developed by MD105 to allow for Young Leaders with limited abilities).
The benefits for young people taking part:
They will experience the rewards of community service
Achieve significant levels of community involvement
Receive a congratulation letter, a certificate and awards presentation for youth recipients
The Community will also benefit:
Improving as a result of the young people's service efforts
It will become more aware of service opportunities
Nurture ongoing service by young people and others
Lions will:
Encourage people to serve the community
Introduce young people to future service and leadership opportunities
Provide on-going mentoring and assistance throughout the process
Below you can download some useful information sheets:
A guide to Young Leaders in Service

YLIS_GUIDE_2019.doc
How the Young Leaders in Service Award operates

How_the_Awards_Operate.doc
Young Leaders in Service Poster

YLiS_Poster_amended_20.9.2017.pdf
There are new forms listed below and can be downloaded for use immediately by clicking this link:

Club Guide - updated October 19.doc

Form 1a.doc YLiS 1a - registration form, with the request for a young personís address for an award presentation evening

Form 1b.doc YLiS 1b - registration form, without mention of a presentation evening.
Either YLiS 1a or YLiS 1b need to be completed before the issue of logbooks, the club retains these until 12 months service is complete and the information is no longer required. Please complete the start and finish date for the 12 months service.

Form 2.doc YLiS 2 - YLiS school/youth organisation certification form. This is now 1 form for each group. The certification form no longer requires a parents signature.

Form 3.doc
YLiS 3 - YLiS Lions Club Award Request form. To be sent with form YLiS 2 with logbooks to 105sc District Officer. Please be sure to fill in your club number.

Form 4.doc YLiS 4 - Parental Consent Form for use of images of children
Completed forms and Logbooks MUST be posted to the DISTRICT OFFICER (Rob Armstrong-Collett)
At this stage, the cloth badges will be of the current design. The designs are the same for the gold and silver awards and are the same size as the existing pins. (The wording will need to be changed as Ireland plan to become a separate District). Alternatively, a metal pin can be requested.
Pins or badges will be sent with Certificates at no cost to clubs.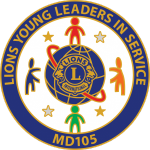 If you are or know of, a young person who might qualify for this scheme please let us know and we will gladly let you have more information or e-mail us at youngleaders@lions105sc.org.uk