Young Ambassador 2021
Kenan Bryan
Supported by the Lions Club of Jersey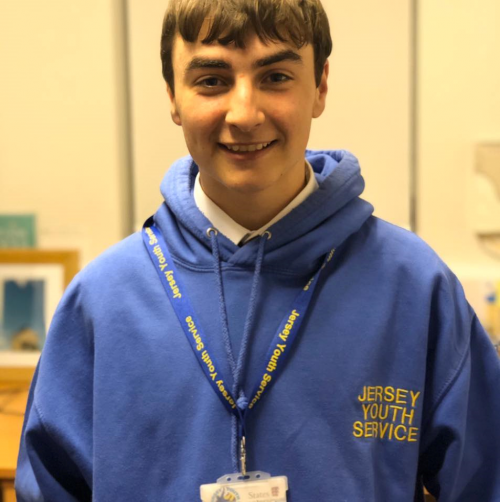 Congratulations to Kenan Bryan on becoming our Young Ambassador for 2021. The District Finals were held on a Zoom Meeting in January. The Judges were unanimous in their decision to recommend Kenan to go forward to the Multiple District Finals to be held in February. He goes with our full support and best wishes.
The Multiple District Finals of the Young Ambassador competition was held on Saturday the 20th of February 2021 via a virtual meeting. Although not a winner on the day, Kenan represented our District admirably and will go on to become an outstanding Young Ambassador. Below is a short video of the presentation made by Kenan to those who attended the Virtual Meeting.
I am 17 years of age. I currently attend De La Salle College in Jersey, where I am in Year 12 (1st Year of 6th Form) studying History, Sociology and Politics at A level. My intentions, which I hope come to fruition, are to gain a University place in 2022 to read History and Politics or International Relations with the objective to qualify as a Secondary School teacher. A further ambition is to use that training to work overseas where I will be able to explore and open my vision to different forms of life. Travelling the world is something I have always wanted to achieve and to be able to combine this with my passion for teaching seems like an amazing ambition to work towards. Teaching abroad to me is a chance to do something wonderful and adventurous that will change my life forever. Being able to teach abroad will allow me to capture what international exchange is all about. It is people from very different cultures coming together, learning from one another, and making positive connections. To be able to take my skills abroad is an amazing chance to change lives for the better. Helping young students learn English opens doors to new opportunities and helping adult learners enables them to communicate with English-speaking relatives and friends. Giving back to the community and being able to give people the best opportunity to make sure they can achieve the best for themselves is something that I endeavour to achieve. Article 28 of the United Convention of the Rights of a Child states that every child has the right to an education, no matter who they are, race, gender, background or ethnicity. By going abroad and teaching, I know that I will be able to ensure that all pupils I teach are receiving their right to education.
In school, I am the Senior Captain of Peary house and throughout my secondary school life, I have been privileged to have been the House Captain five years running. This was recognised by the senior leadership team and I was then granted the position of Senior Captain at the start of Year 12. Part of my role is to ensure that all Captains in my house understand their role, that they are happy with their work within their designated form groups and that they are pushing their peers to be involved in activities, house competitions as well as making sure they are keeping up to date with their organisation, homework and classwork. As well as this, I, myself have taken on a role to mentor some students in my designated form within the house. This is a brilliant scheme that ensures students are happy with their workload, coping with school and the pressures of exams. I also like to make sure that I talk to them about themselves and not solely on school matters. I like to check that they are happy both in and outside of school.
De La Salle is a school that prides itself on being a friendly environment where we are all part of the Lasallian Family. To make sure that every childís school life is as it should be, I sit on the Anti-bullying Committee. This is a committee formed of a number of young people where we strive to make sure that there is no bullying within our community and also outside school. I have attended many meetings, training sessions and presentations where we have educated teachers and students and then been educated ourselves about bullying and how to deal with it. Every child should be able to come to school and feel safe and my role is important in ensuring that every target is met.
De La Salle entered the journey of becoming a rights-respecting school in 2019. I was lucky enough to have been chosen to sit on our Rights Steering Group where we are in charge of our journey to achieve our awards. Part of the Youth Serviceís yearly agenda is the AGM. This provides all staff training on relative subjects. In 2019 the topic was the UNCRC. I took the information which I had learned from the days training into school. I prepared a PowerPoint and a lesson which I then taught to the year groups. This was a brilliant way to teach young people about their rights but also for me to gain the necessary experience in the teaching sector. After this, I then went on to run a training evening for all staff in primary and secondary so they could fully understand the convention and their right as a duty bearer. This was a brilliant experience and due to all the students and teachers hard work we have now achieved our Bronze Award and currently on route for our Silver Award.
I have lived in Jersey all my life and have always been blessed with full support from my family and friends for all that I undertake. This support has been seconded by the Youth Service and especially Bill. At home, I share the household with a younger brother who is 11. Albeit, we do get along but with the occasional brotherly squabble but Mum and Dad are always on hand to keep it at bay. I am lucky enough to have two Nanís and two Great Granmaís still with us. Since I was young I have always been extremely close with them. Before COVID and the change in the way that we live, I spent most days in the week sleeping at my grandparentís houses, looking after them and giving them the much-needed company. My Grandparents have always offered me any support I need. They give me praise, when required, and tell me how proud they are of me and that I have grown up into a caring young man.
The aim of the scheme, which operates throughout Europe, is to recognise, encourage and support young people who are actively involved in the welfare of the community, supporting the best of our Lionsí ideals. In previous years, candidates have been involved in helping young and older people, disabled, able-bodied and disadvantaged and have organised projects in conservation, crime prevention, promoting healthier lifestyles, hospital radio and other initiatives.

Young Ambassador Officer 105sc
Email youngambassador@lions105sc.org.uk

Related documents and forms

Young_Ambassador_-_Club_Officers_Guide.pdf

Young_Ambassador_-_Application_Form.docx