Lions 105SC 1st Convention
Swindon - Saturday 21st March 2020
Join DG Jarvis and wife Heather for the weekend of 20-22 March 2020 for the 1st Convention for District 105SC at the Hilton Hotel Swindon.
Have your say and take part in the District A.G.M. where the future of your District is debated and decided.
Have a great time at the social events, meet other Lions from the District and afar.
Full details are on the dedicated 2020 Convention website at 2020.lions105sc.org.uk
On-line booking is now open on this website at www.lions105sc.org.uk/booking
Paultons Park
Next events: Sunday 7th June 2020 and Sunday 14th June 2020
Yes, this year we have two dates available to choose from!

The Lions Clubs in District 105SC (central southern England) provide a Paultons Park "Day out with the Lions" for those less fortunate, disabled and vulnerable members of our community who would really enjoy a day of fun at Paultons Park in the New Forest. Read more...
Lions District 105SC DG Team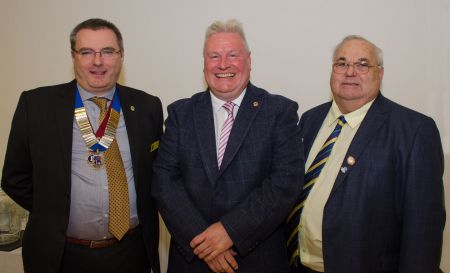 2VDG Brian Donovan (Abingdon Lions Club), DG Jarvis MacDonald (Westbury Lions Club) and 1VDG Steve Petty (Calne Lions Club) - your District 105SC DG Team 2019/20.
Becoming a Lion
An Introduction to what it means to be a Lion by Peter Tabb - download the PDF booklet
Projects
Health Awareness programmes, environment, community, youth . Read more...
Useful information for clubs
Health and safety advice, insurance, competitions, awards, publicity Read more...
Latest District News
Read the latest District news...

District Newsletter

Council Chairman's Newsletter

District Officers' Pages
Members can find out who is doing what. District Officers can find useful notes to help with their role. Read more...
Members' Pages
Help logging in, monthly mailings, District Directory, Membership application forms - it's all here...
Other Lions Websites
Looking for MyLci log-in or other Lions Clubs websites or Lions related websites? - Read more...