Welcome to new Lions District 105SC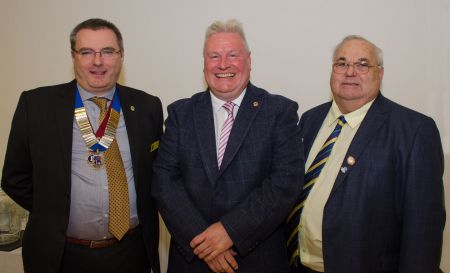 Welcome to DG Jarvis MacDonald (Westbury Lions Club), 1VDG Steve Petty (Calne Lions Club), and 2VDG Brian Donovan (Abingdon Lions Club) - your District 105sc DG Team.
District Startover 2019
Sunday 14th July 2019
White Horse Country Park, Coach Road, Westbury, Wiltshire BA13 4LY
This year instead of "Handover" we had a "StartOver" as we morph from District 105SC.
District Governor Jarvis MacDonald wecomed District Officers, Regional Chairs and Zone Chairs.
Projects
Health Awareness programmes, environment, community, youth . Read more...
Useful information for clubs
Health and safety advice, insurance, competitions, awards, publicity Read more...
Latest District News
Friday 19th July 2019
It is with great sadness that we have to inform you that Immediate Past District Governor (105D) Ken Staniforth MJF passed away this afternoon, in Salisbury District Hospital.
As most of you will be aware, Ken had been fighting Myeloma Cancer of The Blood for the last couple of years and has given it a fantastic fight as only he could. Unfortunately in the last few days he caught Pneumonia and his immune system was too weak to fight this final hurdle.
Luckily we visited him in Hospital yesterday evening and presented him with his Past District Governor medal and chain; his pride in receiving this was obvious and he had a huge smile on his face.
He really was an amazing man, and his love and enthusiasm for Lions was really contagious.
A least he is no longer suffering and is now at peace. He will be long remembered as a Gentleman, a Lion, a friend and the final District Governor of District 105D.
Our thoughts and condolences are with Ken's partner Lion Jean Lock and the rest of his family at this most difficult time.
District Governor 105SC Lion Jarvis MacDonald
Past Council Chairman MD105 Lion Peter Burnett
For funeral details see the In Memoriam page on the 105d website.

---
Reading Lions LP Dave Ebsworth is taking part in a Prostate Cancer fundraising event. Find out how to sponsor him and read his story....

Read the latest District news...
District Newsletter

Council Chairman's Newsletter

District Officers' Pages
Members can find out who is doing what. District Officers can find useful notes to help with their role. Read more...
Members' Pages
Help logging in, monthly mailings, District Directory, Membership application forms - it's all here...
Forthcoming events
August

2019

Venue

Time/Details

Mon 26th

Summer Holiday

September

2019

Venue

Time/Details

T.B.C.

Finance Committee Meeting

Conference Call

7:30pm (Budget Planning and Final accounts for 2018/19)

October

2019

Venue

Time/Details

Sun 6th

10:30am

Sun 13th

Melksham Charter Lunch

Shaw Country House Hotel; Bath Road; Shaw; Melksham SN12 8EF

12:30 for 1pm DG attending

Sat 19th

Woodley and Earley Charter Dinner

Sonning Golf Club; Duffield Road; Sonning on Thames; Reading RG4 6GJ

6:45 for 7:15pm

Sat 19th

Fleet Charter Dinner

7pm DG attending

Sun 20th

Marlborough Charter Lunch

Chiseldon House Hotel; New Road; Chiseldon; Swindon; SN4 0NE

12 Noon DG attending

Fri 25th

Council of Governors meeting

Weekend

Thu 31st

Halloween

November

2019

Venue

Time/Details

Sun 10th

Remembrance Sunday

Sat 30th

St Andrew's Day

December

2019

Venue

Time/Details

Wed 25th

Christmas Day

Thu 26th

Boxing Day

January

2020

Venue

Time/Details

Wed 1st

New Year's Day

Fri 24th

Council of Governors meeting

Weekend

February

2020

Venue

Time/Details

Sun 2nd

10:30am

Fri 14th

Valentine's Day

Fri 21st

Weekend

March

2020

Venue

Time/Details

Sun 1st

St David's Day

Tue 10th

MD Lions Day with the UN

Tue 17th

St Patrick's Day

Fri 20th

DoubleTree by Hilton Hotel Swindon; Lydiard Fields; Great Western Way; Swindon SN5 8UZ

TBA

Sat 21st

District Convention 2020

DoubleTree by Hilton Hotel Swindon; Lydiard Fields; Great Western Way; Swindon SN5 8UZ

Weekend

Sun 22nd

Mothering Sunday

April

2020

Venue

Time/Details

Fri 10th

Good Friday

Mon 13th

Easter Monday

Thu 23rd

St George's Day

May

2020

Venue

Time/Details

Fri 1st

Council of Governors meeting

Sat 2nd

1st to 3rd

Fri 8th

May Day and VE Day celebrations

Moved from Monday 4th

Sun 17th

10:30am

Mon 25th

Spring Holiday

June

2020

Venue

Time/Details

T.B.C.

Sun 21st

Father's Day

Fri 26th

Singapore

Weekend+

June

2021

Venue

Time/Details

Fri 25th

Montreal; Canada

Weekend+

July

2022

Venue

Time/Details

Fri 1st

New Delhi

Weekend+

The above dates may change without warning