Welcome to new Lions District 105SC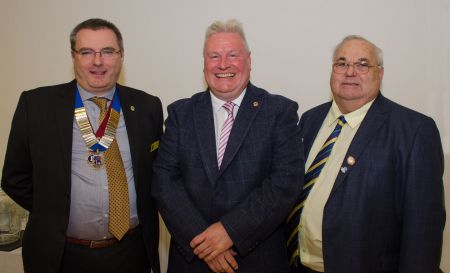 Welcome to DG Jarvis MacDonald (Westbury Lions Club), 1VDG Steve Petty (Calne Lions Club), and 2VDG Brian Donovan (Abingdon Lions Club) - your District 105sc DG Team.
District Cabinet Meeting
Sunday 6th October 2019
The George Hotel, 19 High Street, Amesbury Wiltshire SP4 7ET
See the Calling Notice and a new way to register your attendance or absence.

Becoming a Lion
An Introduction to what it means to be a Lion by Peter Tabb - download the PDF booklet
Projects
Health Awareness programmes, environment, community, youth . Read more...
Useful information for clubs
Health and safety advice, insurance, competitions, awards, publicity Read more...
Latest District News
Read the latest District news...

District Newsletter

Council Chairman's Newsletter

District Officers' Pages
Members can find out who is doing what. District Officers can find useful notes to help with their role. Read more...
Members' Pages
Help logging in, monthly mailings, District Directory, Membership application forms - it's all here...
Other Lions Websites
Looking for MyLci log-in or other Lions Clubs websites or Lions related websites? - Read more...
Forthcoming events
October

2019

Venue

Time/Details

Sun 20th

Marlborough Charter Lunch

Chiseldon House Hotel; New Road; Chiseldon; Swindon; SN4 0NE

12 Noon DG attending

Fri 25th

Council of Governors meeting

Weekend

Thu 31st

Halloween

November

2019

Venue

Time/Details

Sun 10th

Remembrance Sunday

Sat 30th

St Andrew's Day

December

2019

Venue

Time/Details

Wed 25th

Christmas Day

Thu 26th

Boxing Day

January

2020

Venue

Time/Details

Wed 1st

New Year's Day

Sat 11th

Weekend

Sun 12th

Weekend

Sun 12th

10:30am Moved from 2nd Feb

Fri 24th

Council of Governors meeting

Weekend

February

2020

Venue

Time/Details

Fri 14th

Valentine's Day

March

2020

Venue

Time/Details

Sun 1st

St David's Day

Tue 10th

Tue 17th

St Patrick's Day

Fri 20th

DoubleTree by Hilton Hotel Swindon; Lydiard Fields; Great Western Way; Swindon SN5 8UZ

TBA

Sat 21st

District Convention 2020

DoubleTree by Hilton Hotel Swindon; Lydiard Fields; Great Western Way; Swindon SN5 8UZ

Weekend

Sun 22nd

Mothering Sunday

April

2020

Venue

Time/Details

Fri 10th

Good Friday

Mon 13th

Easter Monday

Thu 23rd

St George's Day

May

2020

Venue

Time/Details

Fri 1st

Council of Governors meeting

Sat 2nd

1st to 3rd

Fri 8th

May Day and VE Day celebrations

Moved from Monday 4th

Sun 17th

10:30am

Mon 25th

Spring Holiday

June

2020

Venue

Time/Details

T.B.C.

Sun 21st

Father's Day

Fri 26th

Singapore

Weekend+

August

2020

Venue

Time/Details

Mon 31st

Summer Holiday

June

2021

Venue

Time/Details

Fri 25th

Montreal; Canada

Weekend+

July

2022

Venue

Time/Details

Fri 1st

New Delhi

Weekend+

The above dates may change without warning