Lions 105SC 1st Convention
Swindon - Saturday 21st March 2020 - CANCELLED
In light of the government guidelines on large gatherings and the fact that a large number of our fellow lions could be at risk, it is with a heavy heart that the Cabinet have taken the decision to cancel the District Convention. It is a sad day especially as this was our inaugural convention but we felt it was our duty first and foremost to keep our members safe.
The Convention Chair David Firth has done a superb job of negotiating with the hotel to minimise the financial burden to both the District and individual members.
With the agreement of 1VDG Steve Petty and the rest of the Cabinet we have taken the decision to hold the District Convention on 19-21 March 2021 at the same venue "The Hilton DoubleTree Swindon". For our commitment to holding the convention next year, they have agreed to not charge for the social events and to be generous with the fees for the room bookings.
In the absence of a full Convention, we will be asking all Clubs to vote on the Nominations and Resolutions in the near future; details on how this be conducted will be released shortly.
Jarvis

Westbury Lions
DG 105SC
PS MD have now postponed MD Convention Birmingham
Advice from MD
If your club is planning to hold any public events between now and 31st of May 2020, we would strongly suggest that you consider postponing them until later into the Summer. Public Gatherings are an area of concern for health officials as COVID-19 is a respiratory virus and transmitted through the air. This will help to protect the communities we engage with and will be seen as a proactive and responsible step by the public.
Your Club, Your Way means that you need to decide what is best for your club members, if you have a proportion of your club who are in the high risk categories (Those over the age of 70, Those with underlying medical conditions) it would be prudent to consider cancelling your March, April and May face to face Business Meetings.
Extract from email sent by Council Chairman - Stewart Sherman-Kahn 16-03-2020
Paultons Park
Sorry, cancelled
Next events: Sunday 7th June 2020 and Sunday 14th June 2020
Yes, this year we have two dates available to choose from!

The Lions Clubs in District 105SC (central southern England) provide a Paultons Park "Day out with the Lions" for those less fortunate, disabled and vulnerable members of our community who would really enjoy a day of fun at Paultons Park in the New Forest. Read more...
Lions District 105SC DG Team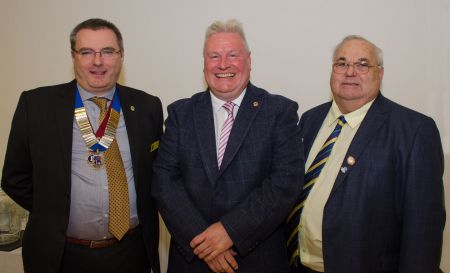 2VDG Brian Donovan (Abingdon Lions Club), DG Jarvis MacDonald (Westbury Lions Club) and 1VDG Steve Petty (Calne Lions Club) - your District 105SC DG Team 2019/20.
Becoming a Lion
An Introduction to what it means to be a Lion by Peter Tabb - download the PDF booklet
Projects
Health Awareness programmes, environment, community, youth . Read more...
Useful information for clubs
Health and safety advice, insurance, competitions, awards, publicity Read more...
Latest District News
Read the latest District news...

District Newsletter

Council Chairman's Newsletter

District Officers' Pages
Members can find out who is doing what. District Officers can find useful notes to help with their role. Read more...
Members' Pages
Help logging in, monthly mailings, District Directory, Membership application forms - it's all here...
Other Lions Websites
Looking for MyLci log-in or other Lions Clubs websites or Lions related websites? - Read more...
Forthcoming events
April

2020

Venue

Time/Details

Fri 10th

Good Friday

Mon 13th

Easter Monday

Thu 23rd

St George's Day

May

2020

Venue

Time/Details

Fri 1st

Council of Governors meeting

Birmingham Conferences and Events Centre; Hill Street; Birmingham B5 4EW

Sat 2nd

Birmingham Conferences and Events Centre; Hill Street; Birmingham B5 4EW

POSTPONED

Fri 8th

May Day and VE Day celebrations

Moved from Monday 4th

Sat 16th

Yateley Charter Dinner

Hartley Wintney Golf Club; London Road; Hartley Wintney RG27 8PT

CANCELLED

Sat 16th

Westbury Charter Dinner

6:30 for 7pm

Sun 17th

10:30am

Mon 25th

Spring Holiday

June

2020

Venue

Time/Details

T.B.C.

CANCELLED

Sat 20th

Newbury Charter Dinner

7 for 7:30pm

Sun 21st

Father's Day

Fri 26th

Singapore

Weekend+

August

2020

Venue

Time/Details

Mon 31st

Summer Holiday

October

2020

Venue

Time/Details

Sat 31st

Halloween

November

2020

Venue

Time/Details

Sun 8th

Remembrance Sunday

Mon 30th

St Andrew's Day

December

2020

Venue

Time/Details

Fri 25th

Christmas Day

Sat 26th

Boxing Day

Mon 28th

Bank Holiday in lieu of Boxing Day

June

2021

Venue

Time/Details

Fri 25th

Montreal; Canada

Weekend+

July

2022

Venue

Time/Details

Fri 1st

New Delhi

Weekend+

The above dates may change without warning