Acting DG Blog 23/24
Thursday, 28th November
Can't believe we are nearly at the end of November! Yesterday I raised £15 for Lions/Brain Tumour Research by giving a sound bath to a Health and Well-being group in Havant.
In the evening I drove to Yateley to attend a zone meeting. Lovely venue but rather a lot of pot holes to negotiate - rather ironic as on the way up the news said that the AA had advised drivers to avoid rain filled potholes! Good to hear what clubs are doing with regards to individual fundraising but also zone projects. Sad that I won't be able to attend the FunFest in June as I will probably be travelling back from Australia.
Sunday, 19th November
The day of the Autumn Forum at The Holiday Inn, Portsmouth. Glad I didn't have far to travel as have a stinking cold (checked for the other but clear!). Dosed myself up to get through the day. 29 Lions, including 15 cabinet officers, representing 12 clubs in our district. Great discussion and sharing of ideas including membership, club roles, ROAR and safeguarding. All present also judged the entries for the peace poster competitiion.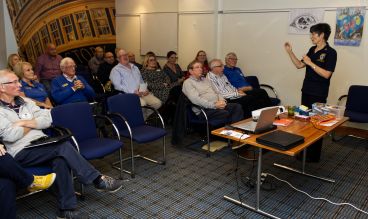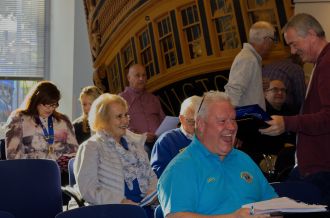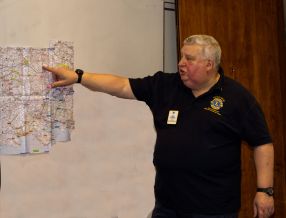 Thursday, 16th November
Attended the funeral, with four other Petersfield Lions, of ex-Lion Bob Lloyd. Bob was a lovely man who did so much for the community. When he left the club he enjoyed being part of our quiz team.
Mayflower Theatre in the evening watching 'The Bowie Experience'.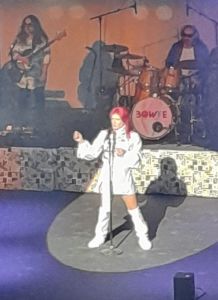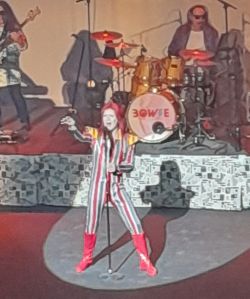 The singer must have had about ten costume changes!
Wednesday, 15th November
Drove to Tadley and met up with John and Judith at their place. Loddon Valley club meeting. Great comraderie between members. Caught up with an ex-Petersfield Lion. Don't envy their Christmas fund raising - 19 nights out with the Santa sleigh! Good to see them supporting the youth and the elderly. Was very touched when they voted to donate £250 to support the siblings of our Children's Hospice 2 year appeal.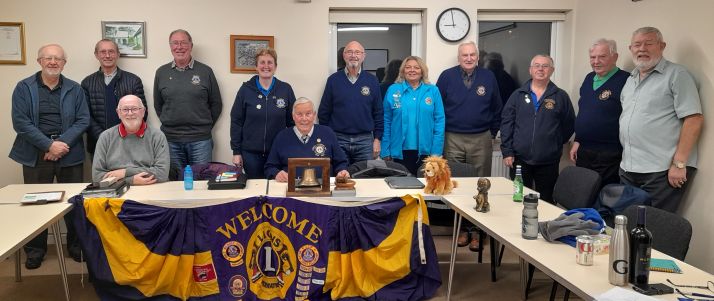 Monday, 13th November
Drove to New Milton through the New Forest. Lovely to meet New Milton Lions for my first visit to that part of the district. Good to see that they are supporting the youth with three schools wanting to participate in Young Leaders in Service. Will be returning in December when they celebrate their charter. Good drive home and only saw one young deer standing by the roadside.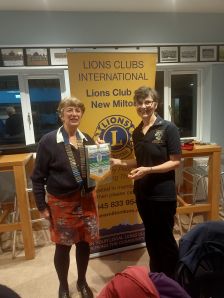 Sunday, 12th November
Managed to get a short walk in today. Saw these lovely beasts.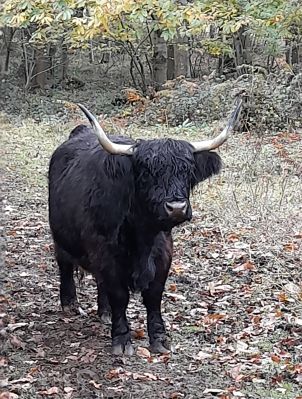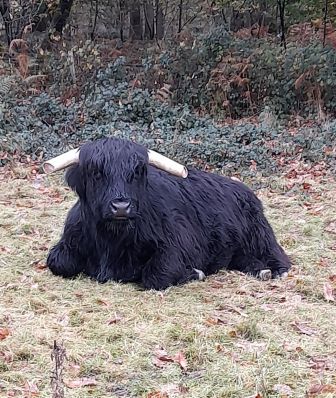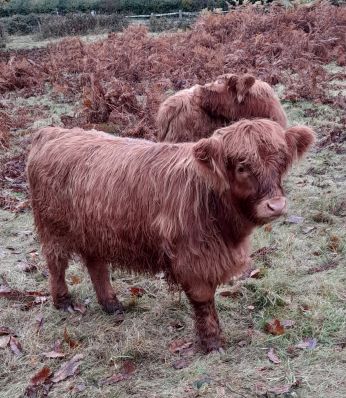 Saturday, 11th November
Helped a friend out at Emsworth. I was responsible for selling crystals to the participants whilst listening to the speaker. Suitably chilled!
Clive came back from Pompey football match - happy that they are still top of the table even though they only drew. Saturday night is chippy night so no cooking. involved.
Friday, 10th November
Delivered a membership pack to secretary of Fareham Lions late morning. After lunch drove to Hayling to drop off the Wild Tribe Heroes books at their charity shop (forgot to hand over last night!). Spent the afternoon catching up with a friend and then drove to Hamblin Hall near Chichester for an evening workshop.
Thursday, 9th November
U3A History Group visit to the King's Theatre in Southsea. Wonderful building built in 1907 and saved by the locals when threatened with closure. It was designed by Francis Matcham who also designed the Hippodrome in 1900, Hackney Empire, Coliseum and Palladium Theatres. It is absolutely beautiful inside. Also saw interesting statues on the roof.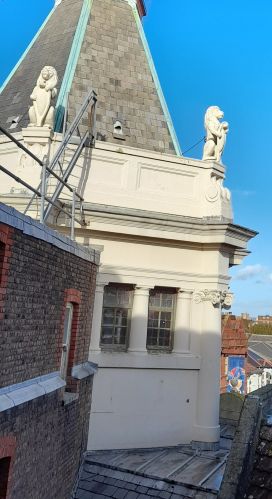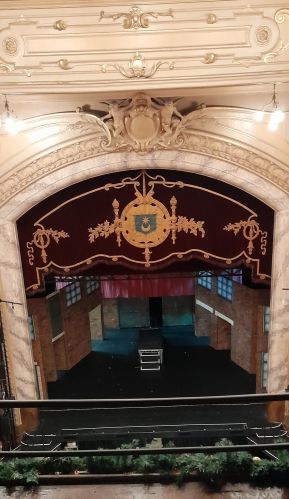 Another local club visit tonight. This time to Hayling Island Lions. Their charity shop is doing very well. Met a prospective new member who was an ex-collegue of mine!
Failed to get a club photo at the end - my fault!
Wednesday, 8th November
Drove to Bournemouth to pay my respects at the funeral of Lion Peggy of Bournemouth & Christchurch Lions who passed away aged 101. It was a wonderful celebration of her life. Her father had been the valet to Rudyard Kipling and Peggy was married to an ex-DG. Although I had never met her it sounded like she was a wonderful lady and was loved by all.
Evening visit to Fleet Lions. Blown away by how much they raised at their firework event. Good to hear that Wild Tribe Hero books are popular with their schools and also that ROAR has taken off. Two prospective new members attended who will become Lions at the next meeting. Club photo remembered this time but took a while to get everyone in the frame!

Tuesday, 7th November
Short journey to visit Havant Lions. A small club with a big heart. Lots of interaction among members. They have had to make the decision not to have a santa sleigh this year as won't have enough manpower. As I said to them - it's good to recognise what you can do and make decisions based on that without feeling guilty. Came away with some homework in that I need to find someone in Lions who can help them with their Facebook page as the person who was administrator is no longer a Lion. They are also aiming to run a fashion show next year so putting them in touch with one of our members who organised ours. Get a real buzz about helping each other. Did fall at the last hurdle in that I forgot to take a club photo so hope they'll forgive me!
Monday, 6th November
Club meeting. Prospective new member who will be badged up next meeting and two other guests who are interested in our organisation. Good discussions and also lots of laughter.
Sunday, 5th November
Left home at 9.30 and drove to Bradford on Avon for their 53rd Charter lunch. Another lovely lunch among friends. Great to catch up with some Lions we saw at last year's charter. Well supported by many other Lions's clubs in the area including GMS, Chippenham, Westbury, Trowbridge and Calne. Entertainment from a ladies choir - such energy. After the Charter we drove to my brother's house and spent the night there.
Saturday, 4th November
Wimborne & Ferndown 54th Charter. Lovely night spent making more friendships. Felt very honoured to present two Lions with their 50 years certificate of appreciation - Lion Robin and Lion President Ken. Music by 'Us Two'. Came home with a new friend who needed a seat belt on in the back of the car!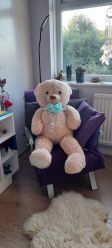 He's taken over a chair in my study!

Friday, 3rd November
Club visit to Eastleigh Lions. Informative talk by Step by Step charity which supports homeless youngsters. Lots of discussion. Zone chair Christine and Fran from Fareham Lions both in attendance. A club still going strong who will be celebrating their 60th year next year.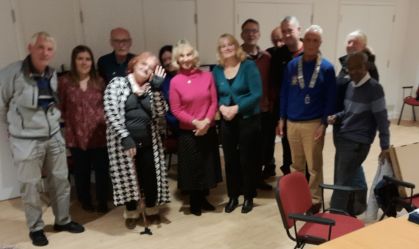 Monday, 30th October
Zone C meeting in Petersfield. Great to chat to other clubs and pick up ideas. For Alton's 50th year they are asking people to do 50 of a challenge and some of them spent the day in a local school where youngsters were rising to the challenge. Hearing about infant children frantically pedalling 50 laps of the area brought back memories of teaching reception children and leaping out of the way when they hurtled past me on the trikes and scooters! Woolmer Forest has instigated an outreach programme working with their local pub to raise funds for children - looking forward to hearing more about this. Mike, our zone chair, showed us a couple of LCI videos about service. Good to see what other clubs do - Seal Beach Lions Club in America has a membership of over 400 people.
Sunday, 29th October
Up early, collected Pat and then had a scenic drive to Southsea - how could I take the wrong turning having lived in this area for most of my life! Breakfast at The Beach Cafe with eleven other Lions. We watched the sea get rougher and rougher - some brave (or should I say mad?) souls were actually in the water.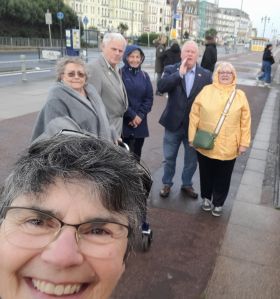 Set up for Cabinet chaired by Jarvis with Ebbo as SAA. Great meeting with fun and laughter as well as listening to report updates and making decisions. Meeting over by 12.45 then lunch and farewells. Wished those travelling long distances a safe journey. Glad to hear that the hovercraft was running although it was a choppy crossing.
Friday, 27th October
Clive and I managed to find a day when both of us were free so decided to go to Winchester for a wander. Managed to dodge the rain. Think the Christmas market will be huge as saw lots of workmen erecting sheds for stall holders.
Thursday, 26th October
Responded to an SOS from Brigitte at HQ about a 96 year old man who was unable to set up his TV when he moved. Contacted Crofton Lions who were able to help. It's all about supporting each other and makes you proud to be a LIon.
Wednesday, 25th October
Met a friend for coffee in Petersfield . Then at lunch time caught up with Ian Hambleton, our hunger officer, and his wife, Carole along with my club president for coffee!! The three of them were going to visit our local free food shop whilst I went and did an afternoon stint in the town's Charity Christmas Card Shop.
Sunday, 22nd October
Busy weekend. Picked up Ebbo on Friday and we drove up to The Abbey Hotel at Redditch for Council of Governors. An unforgettable journey as when we were a couple of hundred yards from our destination we discovered the road was flooded and cars were abandoned! I insisted that I really couldn't drive through the deep water. Turned around and went back to the crossroads and tried a different road. Same problem! Back to crossroads and third road taken. Same problem! Eventually found a local (who had just picked up his car number plate lost due to floods) and he directed us to the hotel. Took us about forty-five minutes from first 'road closed' sign to get to the hotel.
Met up with all the first vice district governors and the district governors. Busy couple of days with discussions and presentations.
Drive home thankfully much quicker. Good job next Council of Governors meeting is by zoom as don't think I could face another journey like Friday evening!
Tuesday, 16th October
Club visit to Salisbury & District Lions. Made to feel very welcome although sadly, a lot of the members were unavailable to attend the meeting. New Lion to add to my collection - knitted by a lady who donates them to the club who then give them out to children who visit their stalls.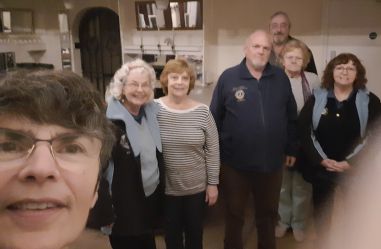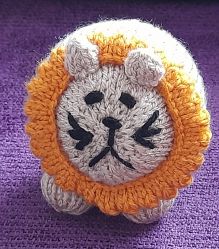 Saturday, 14th & Sunday, 15th October
Weekend away with some of the First Vice District Governors and our partners. Met up and spent Saturday at the Black Country Living Museum. Then had an evening meal together. On the Sunday a few of us returned to the museum and spent the morning there. It is an amazing museum with so much to see and do and the volunteers really get into their roles. My challenge from 1st VDGs was to improve my selfie skills!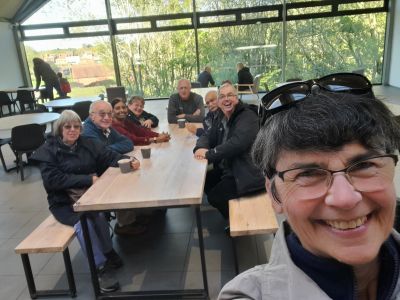 Thursday, 12th October
A moving afternoon and evening. Visited Julia's House at Devizes which is a children's hospice, with Nigel, Geoff and Heather from Westbury Lions. So pleased Julia's House will benefit from the DG charity for the next two years as they do such an amazing job to support families who have chlldren with life shortening illnesses.
Then after a lovely evening meal with some of Westbury Lions it was off to another venue for the business meeting. I was honoured to badge up five new members. A surprise visit from the president's eight year old granddaughter where she gave me £50.31 for the DG charity. She wanted to do something to help children in need and sold some of her toys.
A rather wet and windy trip home but managed to get back before I turned into a pumpkin!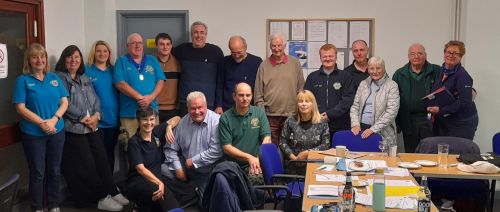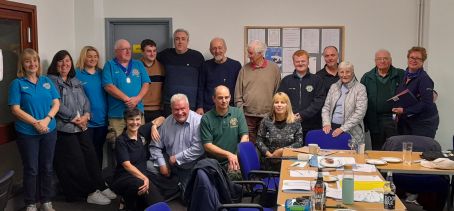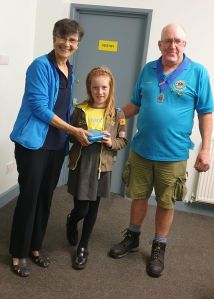 Wednesday, 11th October
Spent the moning helping out at Petersfleld Charity Card Shop which is in the library this year. Does it mean Christmas is coming soon?!?
Visited Romsey & Waterside Lions for their business meeting. Really impressed with their monthly book stalls and also their approach to MIAB. Great evening and good to see new members involved and proactive.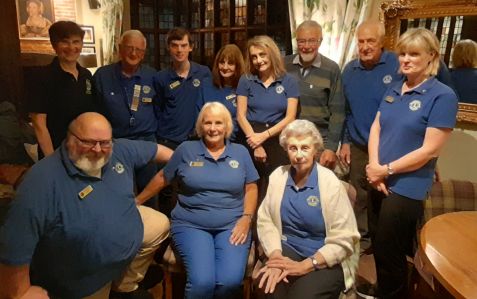 Tuesday, 10th October
Coach trip with our u3a group to Blenheim Palace (never been there before). Of course, I had to see how many lions I could spot.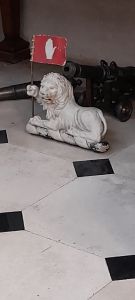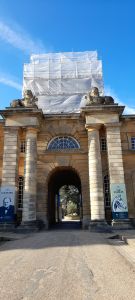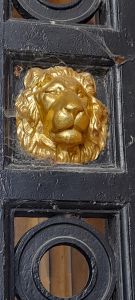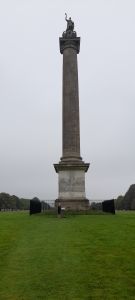 It's a standing joke with Clive and I that wherever we go there is always scaffolding up. We even had scaffolding at the Taj Mahal!!!
Sunday, 8th October
Clive and I went to Blackmoor Apple Tasting Day. Saw Woolmer Forest Lion friends who were doing the marshalling. Spent the morning cutting apples. Absolutely crowded there - must be the weather.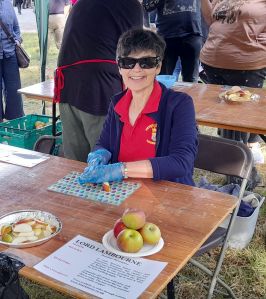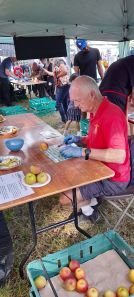 Evening Finance Zoom meeting and then quick DG team catch up.
Saturday, 7th October
Don't know where the last week has gone! Multiple District GST meeting today. Couldn't attend in person but able to zoom in. Our District was praised for giving each club a set of Wild Tribe books. Lots of interesting information - it's good to hear how we all serve our communities and beyond.
Sunday, 1st October
Planning meeting - good to get together and share ideas. Four heads are better than one!
Saturday, 30th September
Unable to attend GMS charter due to operation. I'm renaming him Nurse Clive as he is getting a dab hand at putting in my drops. Slept for a lot of the day in preparation for tomorrow when the DG team are coming to my house for a planning meeting.
Friday, 29th September
Clive dropped me off at our local hospital. Eye operation on left eye. Chilled for the rest of the day.
Thursday, 28th September
1st VDG training on zoom. A chance to get to know others from Europe. All MD105 VDGs in the group plus four from the Netherlands, two from Iceland and one from Belgium.
Wednesday, 27th September
Zoom catch up with some of the other 1st VDGs in our Multiple District. Great to have such a network.
Tuesday, 26th September
Third walk in as many days. One with Clive and two with u3a walking group. Relaxing tomorrow!!!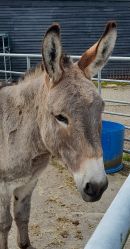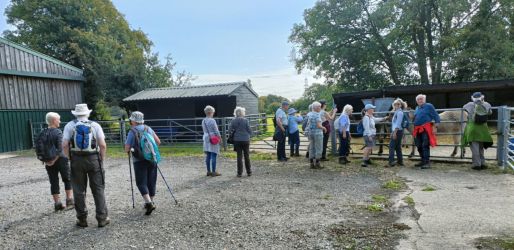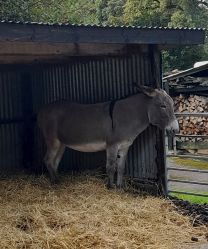 Monday, 18th September
Getting to know Berkshire as club visit to Windsor Lions this evening. Sad to hear that they had to cancel their Cross Country Horse Ride for the second year running - this time due to it being too hot. Hopefully, third time lucky next year as such a lot of planning goes into the event. Came away with a bottle of wine having won 'heads or tails'.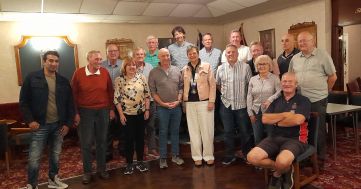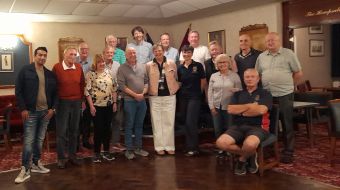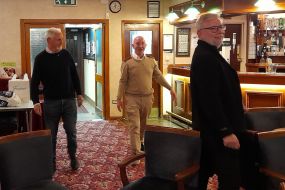 Saturday, 16th September
Helping out at Alton Lions Classic Car Show. Funds raised for Young Lives Vs Cancer charity.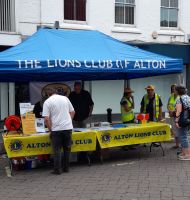 Even asked to help judge one of the categories - Best American car - ably supported by Lion Colin, who knew more about cars than I did. Don't think they'll forget my criteria - good polish on the car! Also honing my marshalling skills. Have to say selfie skills have not improved.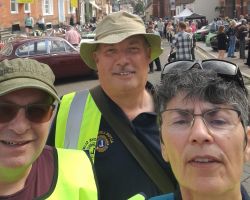 Caught our zone chair having a sugar fix!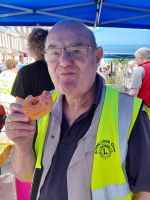 Wonderful day making memories. Hope they all have a well deserved rest tomorrow.
Thursday, 14th September
Last club visit for this week - a shorter journey - to Ringwood & Fordingbridge. Wonderful reception with lemon drizzle cake made by the President (not in my honour I may add!). I am dubbing this club the 'Youth Club' as they are heavily involved in all the youth projects - ROAR, Peace Poster, Young Ambassador, Youth Exchange .....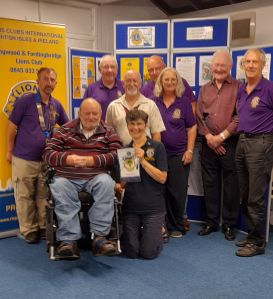 Tuesday, 12th September
Second club visit of the week this time to Maidenhead chartered in May 1973. Lovely visit with lots of fun and laughter. The idea of a Lions Talent Show came up and I envisaged the club members entertaining an audience but no - it was to put on a talent show for children or adults from the community. Still that gave me an idea for Convention!!!!
I had never heard of a blind date with a book (wrapping books in brown paper with blurb written on the back - then sold on a book stall). I'll be taking that idea back to my club. I feel so privileged to be meeting all these wonderful clubs.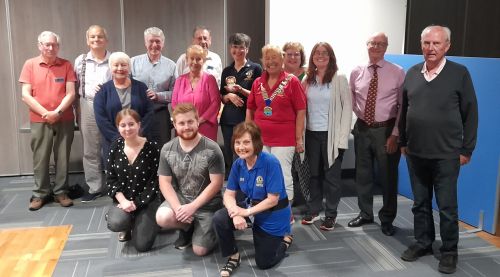 Monday, 11th September
Club visit to Highworth & District chartered in May 1974. For such a small club it is amazing how much they do in the community. They have a community shop, minibus and van! Ordinary people who are doing amazing things.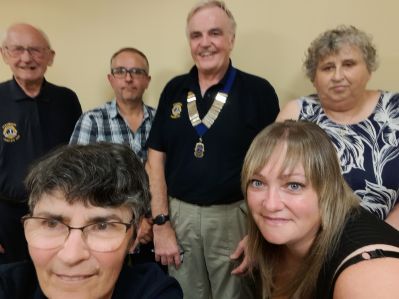 Getting better at doing selfies?!?
Thursday, 7th September
Zoom meeting tonight with the Global Action Team. Spent time planning our Autumn Forum which will be on Sunday 19th November at The Holiday Inn Portsmouth.
Tuesday, 5th September
Met up with a 'zoom' friend at Avebury. Wandered around the stones. Lunch at the National Trust Cafe and then shopping!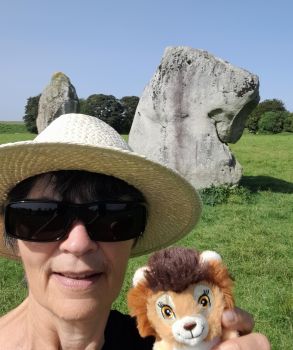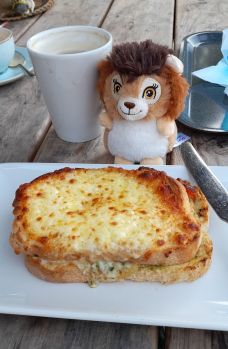 After Avebury travelled on to visit Calne Lions. It's always a pleasure to meet a new club and pick up new ideas. Lots of fun and laughter and I got fined for using too many post-its!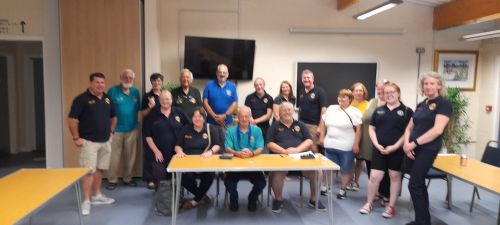 An interesting journey home trying to dodge the road works but made it.
Monday, 4th September
Petersfield Club meeting - President not available so as IPP I had the pleasure of chairing and celebrating our successes. Also welcomed a prospective new member who approached us whilst we had a stall at our local festivities.
Saturday, 2nd September
An early start - at Warsash Mind, Body, Spirit Fair raising funds for our Multiple District Lions/Brain Tumour Research Appeal. I did the same event last year and get a free table in exchange for giving a sound bath. Lots of lovely people attended and I raised £95.50 for our appeal. So many people's lives have been touched by this dreadful disease.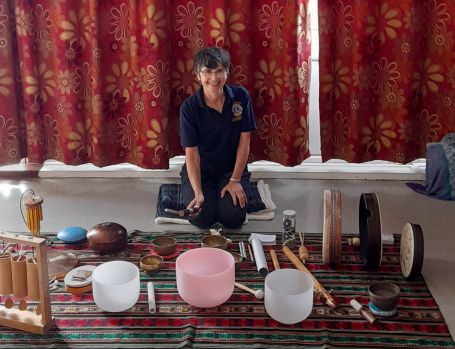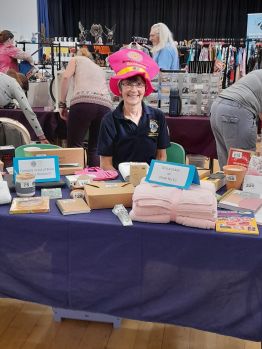 Friday, 1st September
Apples dropped off to Petersfield Free Food Shop - volunteers very grateful. Then a quick wander around town past the Heath Pond. 12.00 saw me at the Community Centre getting ready for our Afternoon Bridge and Tea event. I'm a dab hand at making sandwiches! Everyone enjoyed themselves - monies raised will go towards Kings' Arms which is an amazing charity that supports young people in and around the local area.
Thursday, 31st August
My first gleaning experience. Whilst wandering around a friend's garden at the weekend, I noticed a tree laden with apples. When I mentioned gleaning she was more than happy for me to pick them. Hence, today in the rain one bread basket of apples picked and cleaned. Tomorrow morning dropping them off to our local free food shop. Every little counts.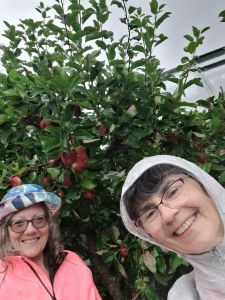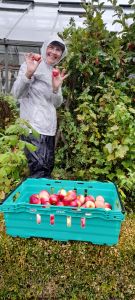 Tuesday, 29th August
Home in time for an afternoon MD105 meeting with AP Singh (our International 2nd Vice President) about Mission 1.5. Campaign 100 was all about service whereas this new initiative is about membership. The goal is to reach 1.5 million members by 1st July 2027 and through increased membership our service will also grow.
Zone Officer meeting via zoom tonight. All of the DG team attended and most of the zone chairs as well as our vision officer. It is so hard to get everyone together as people have prior engagements but really pleased with the turnout. We had some good discussions, sharing of ideas and lots of learning! Great to be working with such committed people.
Monday, 28th August
Up at 6.00 am as had an early start helping at Stubbington Fayre. Fareham and Crofton Lions Clubs involved in the organising. A first for me as I was helping on the tote for the donkey derby although thankfully it wasn't up to me to work out the winnings. All packed up and home by 18.00 but absolutely shattered. Still it was great to see so many people enjoying themselves.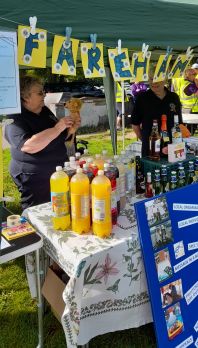 Sunday, 27th August
Good to get out on our stall for a couple of hours and catch up with fellow Lions. A big turnout of families at Petersfield Festivities many of whom wanted to have a go on our tombola. Such polite children who didn't kick up a fuss if they didn't win a prize and people who put money in our bucket - warms your heart. Chatted to a lovely lady who is interested in joining us.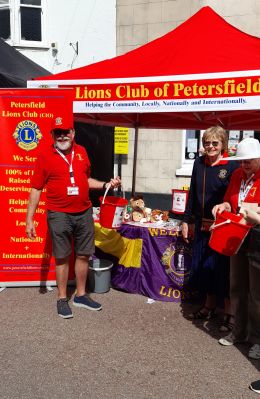 Tuesday, 22nd August
Another zoom meeting - this time with my DG team. Various discussions including membership, Autumn Forum and updating each other. There are now 8 global causes as I found out when I completed my 2nd VDG training on Learn at the weekend (an extra module had been added on new initiatives including Mission 1.5.) Our global causes are Childhood Cancer, Diabetes, Environment, Hunger, Vision, Youth, Disaster Relief and Humanitarian - merged LCI and LCIF which makes sense.
Sunday, 20th August
Attended a zoom training for zone chairs this morning, led by Mike Baker. Good to see our zone chairs putting aside watching the first part of the Football World Cup. After lunch decided to have a walk - I'm lucky to live near woodland and open spaces. Mustn't moan about the weather but was it hot!!! Another zoom at 5.00 pm catching up with friends who live in the west of our district.
Wednesday, 16th August
Time to head home after stopping off at Henley-on-Thames. Looking forward to returning to Maidenhead and Windsor in September as my official visits to those clubs. Henley-on-Thames next Lion year.
Tuesday, 15th August
Woke to a glorious sunny day. Drove to Cliveden - National Trust. Amazing grounds and buildings. We were lucky to be able to go in the house and have a guided tour. Came away wanting to find out more about Nancy Astor as her life sounds so interesting. The grounds were beautiful - ancient trees, formal gardens, a military cemetery, a picnic spot by the river (time for an icecream!)
Saw plenty of lions in the grounds and house.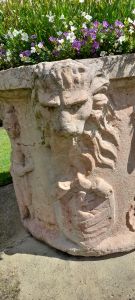 For those of you who know me this fountain was very special - it is called The Tortoise Fountain - can you spot them (and more lions)?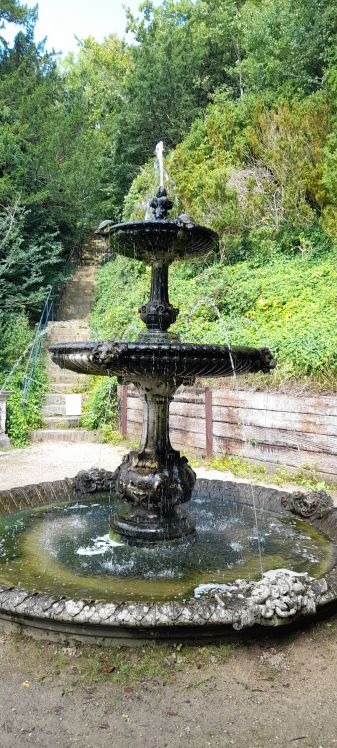 Monday, 14th August
Guess where we went?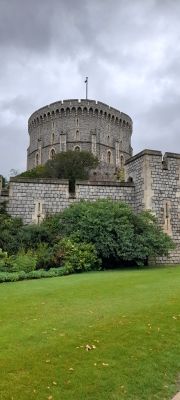 First time we have been in the castle. Luckily the rain held off while we were queueing. Queen Mary's dolls house is something else. Also visited St Georges' Chapel - very poignant to see where Queen Elizabeth and Prince Philip are laid to rest.
Sunday, 13th August
A few days away in our camper van. Walked from Hurley to Marlow and along the way saw this: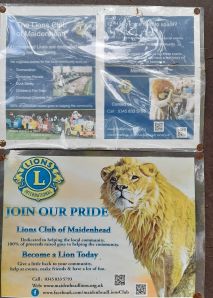 Caught my eye at Hurley Lock - great advertising
Thursday, 10th August
Clive and I drove to Poole and boarded The Purbeck Pride for a boat trip, supper and firework display organised by Poole Lions. Many familiar faces on board including Lions from Bournemouth & Christchurch and Ringwood & Fordingbridge. A wonderful raffle raised money for Jimmy's Food Bank and a giant teddy was auctioned for the local Children's Ward. The firework display was brilliant and elicited many oohs and aahs from those on board. Can't wait for next year!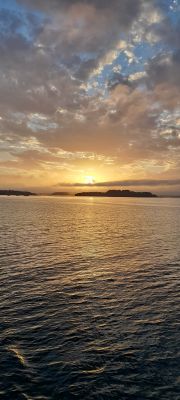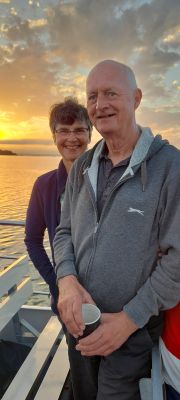 Tuesday, 8th August
Lead my first Global Action Team meeting tonight. Two hours of good discussion, fun and laughter. Lots of jobs to do in the next few days but great satisfaction in ticking things off my to do list.
Thursday, 3rd August
After a wet Wednesday we decided to make the most of the fine weather and walk to Dover. We didn't take the easiest route as found we had to scale a near vertical cliff to get to the North Downs Path! Thank goodness for buses and the two pound concession (I get my bus pass next year - Clive has already got his) as we didn't fancy walking back.
Tuesday, 1st August
Lion Clive and I managed to get away for a few days in our camper van. Destination Folkstone - campsite down a narrow road a minute's walk from the sea. Met up with two new friends, Ann and Rab, the next day for lunch and a catch up. Ann is IPP of Folkstone & Hythe Lions and also a zone chair. We met this year when a plea went out for help in finding a place to stay in Portsmouth whilst their daughter was rushed to our local hospital. We offered to put them up and now have friends for life. The beauty of being a Lion.
Friday, 28th July
Left home just after lunch and drove to Redditch for my first Council of Governors' weekend. Love the A34 - 45 minutes to go about 30 meters! Met up with Dave Ebsworth, who was there to support me. A very enjoyable weekend making new connections and picking up useful information. My travelling Lion came with me. Look out for him on my travels.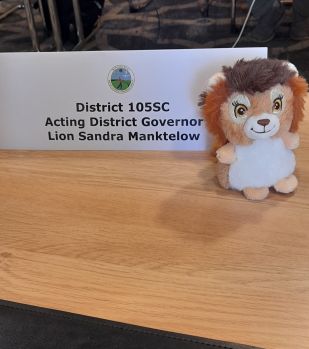 Sunday, 23rd July
Up early to get to Swindon for the last Cabinet meeting of Dave's year as DG.
After lunch, time for Handover when Dave presented me with 1st VDG chain of office.
Introduced new cabinet which is made up of some of last year's officers but also lots of new faces.