SpecTrek - spectacles recycling project
Lions Clubs International encourage Lions to collect old and unwanted spectacles so that they can be recycled and sent to countries where they are desperately needed.
For many years Petersfield Club organised the Annual Spectrek. Each year the Club collected over 100,000 pairs of unwanted spectacles from Lions Clubs all over the area. They were then passed on to other Lions Clubs for sorting, grading and onward transport to the third world. Over 2.5 million pairs of spectacles have been collected since the first SpecTrek in 1982.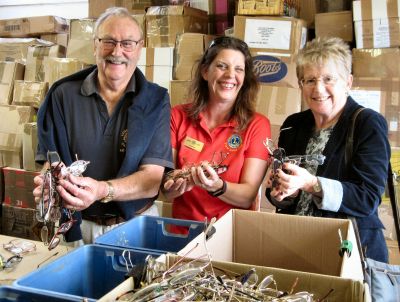 The number of spectacles collected grew and in the end and it took four Transit style vans and a couple of support vehicles to collect spectacles from Lions Clubs spread over Hampshire, Wiltshire, Dorset, the Isle of Wight and the Channel Islands.
Since the ending of Spectrek Lions Clubs can either take their specs to Chichester Lions or use the special Parcel Force arrangements. Please see the Sight Matters pages for more information.
Chichester Lions have specially bought a very large 'garden shed' where they do the initial sorting. Bifocals are rejected, gold rims are sent for melting down for the gold and vintage/designer ones are sold on Ebay. They process ALL the spectacles collected by Lions in the Multiple District, including Ireland. And it's mainly their Club members that do this, on shifts most mornings. They are then sent to Medico France in Le Havre who have the necessary equipment to clean and grade the spectacles ready for use in eye camps in Africa, India and Eastern Europe where a pair of spectacles can make the difference between supporting a family or starving.
Read more on the Chichester Lions website
Contact Lion Judith Goodchild gst@lions105sc.org.uk