SpecTrek - spectacles recycling project
Lions Clubs International encourage Lions to collect old and unwanted spectacles so that they can be recycled and sent to countries where they are desperately needed.
For many years Petersfield Club organised the Annual Spectrek. Each year the Club collected over 100,000 pairs of unwanted spectacles from Lions Clubs all over the area. They were then passed on to other Lions Clubs for sorting, grading and onward transport to the third world. Over 2.5 million pairs of spectacles have been collected since the first SpecTrek in 1982.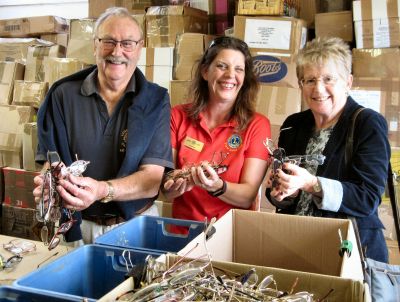 The number of spectacles collected grew and in the end and it took four Transit style vans and a couple of support vehicles to collect spectacles from Lions Clubs spread over Hampshire, Wiltshire, Dorset, the Isle of Wight and the Channel Islands.
Since the ending of Spectrek, Lions Clubs can either take their specs to Chichester Lions or use the special Parcel Force arrangements. Please see the Sight Matters pages for more information.
Chichester Lions have specially bought a very large 'garden shed' where they do the initial sorting. Bifocals are rejected, gold rims are sent for melting down for the gold and vintage/designer ones are sold on Ebay. They process ALL the spectacles collected by Lions in the Multiple District, including Ireland. And it's mainly their Club members that do this, on shifts most mornings. They are then sent to Medico France in Le Havre who have the necessary equipment to clean and grade the spectacles ready for use in eye camps in Africa, India and Eastern Europe where a pair of spectacles can make the difference between supporting a family or starving.
Read more on the Chichester Lions website
Contact Lion Sandra Manktelow
The History of SpecTrek
SpecTrek first began in April 1982 and was styled as a 'Spectacle Safari'. Members of Petersfield Lions Club walked the ninety miles from Petersfield to Weymouth pushing two wheelbarrows of spectacles the whole way! Future years were easier as we drove vans instead.
In the early years the specs, collected from Lions Clubs throughout the south, including clubs across the water (Isle of Wight clubs, Guernsey and Jersey) were taken to Weymouth Lions who moved them on to the Missionary Optical Society based in Cornwall. The Society then graded and packed them before dispatch to Africa and Asia.
Later, Weymouth no longer had a place for us to store the spectacles and so all the specs were taken to a storage site found by Eastleigh Lions, that was made up of large shipping containers. The provider of the store then passed them on to the Society. A few years later the owner of this store went out of business and we, very rapidly, had to find somewhere else for our, by then, 50000 plus pairs of specs. Also, at the same time, the Missionary Optical Society were no longer in business.
Chichester Lions had been running a nationwide collection using Parcelforce for some time and we contacted them. Thankfully, they were able to help, although our specs added a lot to their steady annual flow. In the first year we took all our collection to various sites around Chichester. Thereafter, we passed the specs on to Midhurst Lions where they were stored in the dairy on the Cowdray Estate.
Petersfield Lions Club continued with its annual SpecTrek run sending vans on two routes in the old District of 105D – one to the north and the other to the south for many years. The club made many friends along the way. Due to rising costs of fuel etc there were fewer pick-up points but the Clubs always made us feel welcome.
Eventually we were no longer able to store the numerous boxes of specs in the dairy at Cowdray Park and Petersfield Lions Club felt it couldn't continue to coordinate the event so our District then took this initiative on.
Having been involved for several years, including contacting the clubs and sorting out the timetables for the routes, I have fond memories of the Sundays we travelled across District 105D collecting spectacles. I never made it to the Northern Route but rode shotgun on the Southern Route many times. One year stands out when we had so many boxes of specs that I had to have boxes packed around me as there was no room left in the vehicles. Health and Safety hadn't been invented then!
Today it is heartening to see that many clubs continue participating in SpecTrek albeit in its new format and as a new district. Long may Lions of 105SC continue this tradition which started forty years ago.
Lion Sandra Manktelow
Petersfield Lions
GST Co-ordinator