DG Blog 22/23
Sunday, 14th August
Today, Annie and I should've been presenting medals at the Bob Cook Games in Swindon, an event held annually by Chippenham Lions Club. Unfortunately, due to the extreme weather, the games have had to be postponed until next year. This was very disappointing for all concerned, but the health and welfare of competitors and volunteers must come first. We look forward to attending next year.
So instead, I got up really early before it got too hot, and went into the car park across the road from us, where previously we had planted a bank of wild flowers, to tidy up. The bank of flowers, which we naively thought were ground spreading turned into a jungle (!), so I only managed to do half today before I nearly melted away! I also litter picked the car park, this is a little project we do regularly for our community.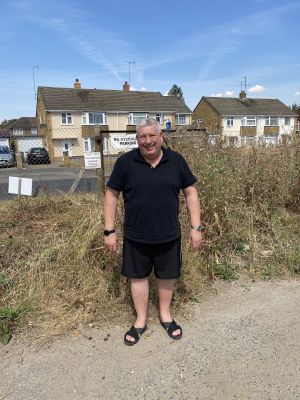 Saturday, 13th August
Joined GMT lead, PDG Lion Jarvis, IPDG Lion Brian, Lion Presidents Lesley (Abingdon) and Ian (Reading) plus members from Reading Lions club Paul and Karyna and Carrie-Anne in a membership drive in Didcot. We are hoping to get enough interest to start a new club in the town where I was born (!) as Didcot has grown over the last few years with much new housing and opportunities.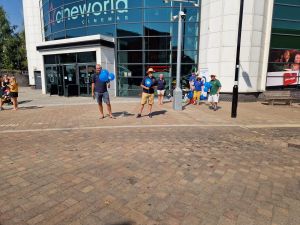 Friday, 12th August
Annie and I had a lovely afternoon with Lion Tom and Juliet, organising my Prostate Cancer presentation for the Europa Forum in Zagreb, Croatia in October. Juliet cooked a wonderful meal and we enjoyed some social time in their garden putting the world to rights! Thank you both for all your hard work, it is much appreciated.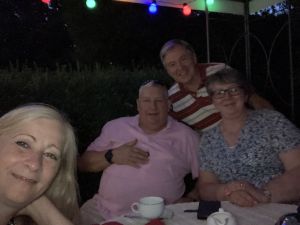 Thursday, 11th August
Had an evening zoom meeting with the new multiple district Prostate Cancer officer, Lion Rosie, where we discussed the future role of the Prostate Cancer officer and forward planning.
Sunday, August 7th
Held DG team meeting with 1st Vice David and 2nd Vice Sandra, where we discussed the forthcoming year and how we can help the district move forward after the past 2 years of the pandemic.
Thursday, 4th August
Spent a lovely evening thanks to the members of Poole Lions Club, who arranged a Poole harbour trip, a lovely fish & chip supper and finished off with a fantastic fireworks display. On board were around 150 Lions, their families and friends and it was a wonderful evening, thank you Poole Lions.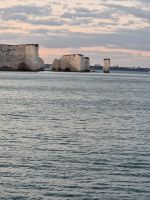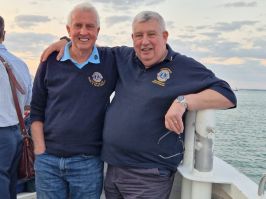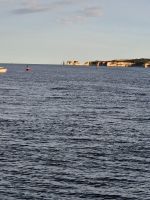 Monday, 1st August
A very sad day today when I lost a Lion, friend and mentor when Lion PCC David Hitchens passed away. He was a charter member of Reading Lions Club and a personal friend, and I will greatly miss his friendship, support and wisdom. As he would say, "Hitchens, Reading", rest in peace my friend.
Friday 29th July-Sunday 31st July
This weekend I joined my fellow District Governors at our first Council meeting of the year, held in Warwickshire. It was great meeting up again with them and our partners after the International Convention in Montreal and hearing how we are all getting on. Present during the weekend were Council, Vice council, PID's Phil Nathan and Geoff Leeder and the meeting was very ably chaired by Council Chair, Alastair Joel, assisted by Council Secretary Peter Burnett and Council Treasurer Philip Goodier. 2 good days of business were conducted, along with dinners with our partners in the evening where there was a chance to catch up with friends old and new.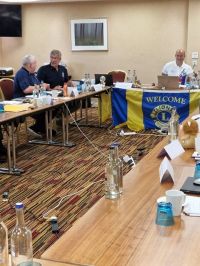 Sunday, 24th July
Attended Council meeting run by Council Chair Alistair, along with Past International Directors, Council secretary, treasurer and seven other District Governors.
Thursday, 21st July
Held a Global Action Team (GAT) meeting with Lions Jarvis MacDonald, Linda Picton, Brian Donovan, David Taylor, Sandra Manktelow, Peter Burnett and Tom Sayers via zoom. Lots of matters were discussed including updates from Global Service, Leadership and Membership teams and it was a very positive meeting.
Monday, July 18th
Tonight (and on one of the hottest days of the year!) I was made very welcome at Salisbury and District Lions Clubs business meeting. During the meeting I had the pleasure of joining Lion President Jeremy Tidswell in inducting 2 new members to their club, Lion Yvonne Chick and Lion Brian Richards, watched proudly on by their sponsors, Lions Joe and Ann Rooney. Welcome Yvonne and Brian to the Lions family and I look forward to working with you in the future.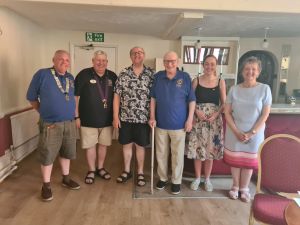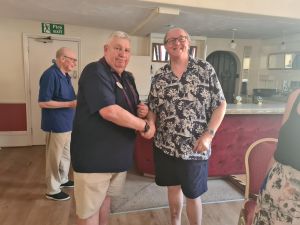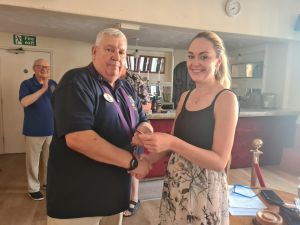 Tuesday, 12th July
Met with PDG Lion Jarvis MacDonald from GMT, Lion President Lesley Donovan from Abingdon Lions Club and Lion Carrie-Anne to discuss the exciting possibility of forming a brand new Lions Club in Didcot, Oxfordshire.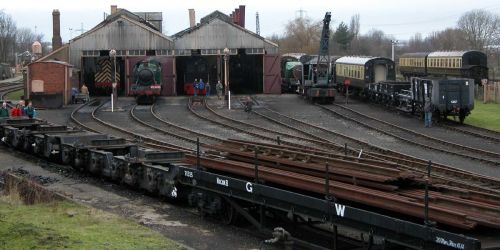 Monday, 11th July
Visited the Convention Hotel with Convention Chair Patrick Hamblin, and Tom Sayers and Juliet Browne from the Convention Team. The hotel is nicely appointed, the food is good (well, I had to test it) and the staff are warm and friendly. I think it'll be perfect for us.
Sunday, 10th July
I had a great first Cabinet.
Then a nice lunch followed by the Handover Ceremony. IPDG Brian Donovan passed the DG chain of office to me - thanks Brian. I then presented a First Vice chain to David Taylor and a Second Vice chain to Sandra Manktelow.
A great start to my year!