Lions International Youth Camp & Exchange Program
What is the scheme all about
Thousands of young people from countries around the World participate in this scheme every year and it is an amazing opportunity for many to explore a different culture, create lifelong friendships abroad, and develop their confidence, independence, and communication skills in a safe environment. There are multiple places available through this scheme operated each year by Lions Clubs International, and in most cases the only expense will be a student's own travel costs to and from their chosen country.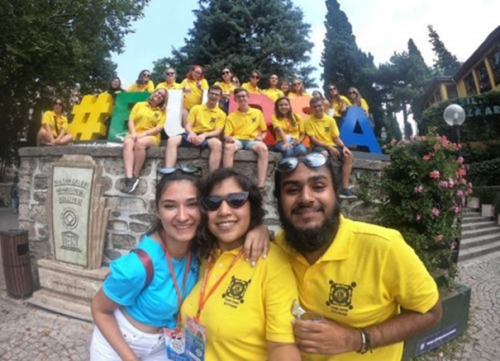 Find out what our International President thinks about the program and how Lions Clubs can get involved through this short video:-https://www.youtube.com/watch?v=l4M9d31AAJ0&pp=QAFIAQ%3D%3D
Clubs who have participated
Ringwood & Fordingbridge Lions Club have helped many local students to visit International Lions Camps in America, Canada, Australia, Hawaii, Finland, Sweden, Denmark, Italy, Spain, India, Taiwan, Malaysia, Germany, Belgium and France amongst others. New Milton Lions Club also have strong links with Brockenhurst College and regularly help students find a place at a Lions International Youth Camp abroad.

What does it involve
The scheme enables students to attend a residential youth camp (usually 1-2 weeks) in a country of their choosing, and also to experience life in that country by staying with a host family for 1-3 weeks. It happens generally in the summer holidays, and there are usually over 100 camps to choose from around the world.
Why should your club be interested in finding out more?
The scheme is extraordinary and makes such a difference to the lives of the young people involved. Multiple places are available on this scheme which is designed to promote friendship, travel and a greater international cultural awareness for those aged between 16 and 22. The scheme offers students the opportunity to:-.

visit extraordinary places and explore other countries and their cultures
create lifelong memories and friendships with other young people their own age from around the world
see what it is like to live with a family in the country you choose to visit
meet people their own age from countries around the world
become an International Ambassador for the UK, their town and their Lions Club
If you are keen to find out more about this scheme, have schools or colleges in your area that might be interested, or would like to find out more about hosting any inbound international students next year attending our Youth Camp in MD105 then please contact Stephen Sherring for more information at youthexchange@lions105sc.org.uk or call on 07341 275176