Covid-19
In times like these we need to take care of not only the public well-being but also our family, friends, club members and our own well-being. Especially those who may be feeling lonely, isolated, vulnerable or just bored!
The Global Action Team (GAT) have created a few pointers to consider for keeping yourselves involved during Social Distancing and Isolation; although the 'normal' methods of communicating may have changed it should not mean the old-fashioned communication stops.
See the ideas page of the Global Action Team (GAT).
MD Emergency Grant - closed
My Dear Fellow Lions
I am writing to you today to inform you that the Emergency Grant Applications process launched when I last wrote to you is now closed.

The intention of the Trustees has been that, faced with the current crisis of COVID-19 in the British Isles, find a way to help Clubs do what they do best… "Serve".

Since this process commenced 212 Applications have been received and considered, the vast majority of which have been approved in part or in full. This represents Applications from over a third of the Lions Clubs in MD105.

Grants totalling over £140,000 have been approved and the majority of these have now been paid and the remainder will be soon.

Many Clubs have also matched funds so much more has been utilised by the Lions Clubs of MD105 to serve their Communities.

Please remember to use this, as the opportunity it is, to raise the profile of Lions in MD105 and encourage others in the future to join us in the amazing work that we do.

I must finally thank my fellow Trustees; Andy Pemberton, Tom Berry, Corinne Ashburner, Phil Robinson, Linda Picton, Peter Burnett, Ian Gott and Philip Goodier for all their hard work on this and I hope you all see, as I do, this has been a great opportunity for Lions despite all the challenges we currently face.
Stay safe and well.

Regards,

Lion Stewart Sherman-Kahn - Chair of Trustees
LCI MD105 Foundation

Lions 105SC 1st Convention
Results
How did you vote?
Please go to DG Jarvis giving the results by video
Online Q&A session with the DG
Online Convention and voting
The Online Convention website is still live if you missed it. Please go to the 2020 Convention website (www.2020.lions105sc.org.uk) where you will find videos and presentations.
Keep Safe and Keep Smiling!

Kind Regards
Jarvis Macdonald
District Governor
Social events refunds
District Treasurer Linda Picton has emailed everyone who booked social events asking for bank details so that she may refund you. If you have not already sent your details please do so as soon as possible treasurer@lions105sc.org.uk
Advice from MD
If your club is planning to hold any public events between now and 31st of May 2020, we would strongly suggest that you consider postponing them until later into the Summer. Public Gatherings are an area of concern for health officials as COVID-19 is a respiratory virus and transmitted through the air. This will help to protect the communities we engage with and will be seen as a proactive and responsible step by the public.
Your Club, Your Way means that you need to decide what is best for your club members, if you have a proportion of your club who are in the high risk categories (Those over the age of 70, Those with underlying medical conditions) it would be prudent to consider cancelling your March, April and May face to face Business Meetings.
Extract from email sent by Council Chairman - Stewart Sherman-Kahn 16-03-2020
Paultons Park
Sorry, cancelled

The Lions Clubs in District 105SC (central southern England) provide a Paultons Park "Day out with the Lions" for those less fortunate, disabled and vulnerable members of our community who would really enjoy a day of fun at Paultons Park in the New Forest. Read more...
Lions District 105SC DG Team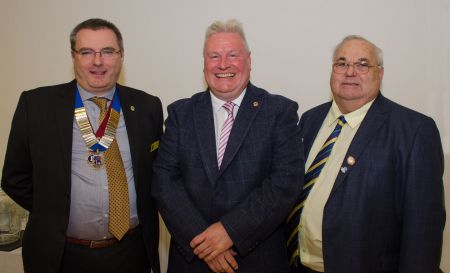 2VDG Brian Donovan (Abingdon Lions Club), DG Jarvis MacDonald (Westbury Lions Club) and 1VDG Steve Petty (Calne Lions Club) - your District 105SC DG Team 2019/20.
Becoming a Lion
An Introduction to what it means to be a Lion by Peter Tabb - download the PDF booklet
Projects
Health Awareness programmes, environment, community, youth . Read more...
Useful information for clubs
Health and safety advice, insurance, competitions, awards, publicity Read more...
Latest District News
Read the latest District news...

District Newsletter

Council Chairman's Newsletter

District Officers' Pages
Members can find out who is doing what. District Officers can find useful notes to help with their role. Read more...
Members' Pages
Help logging in, monthly mailings, District Directory, Membership application forms - it's all here...
Other Lions Websites
Looking for MyLci log-in or other Lions Clubs websites or Lions related websites? - Read more...
Forthcoming events
June

2020

Venue

Time/Details

T.B.C.

CANCELLED

Sat 20th

Newbury Charter Dinner

7 for 7:30pm

Sun 21st

Father's Day

Fri 26th

Singapore

CANCELLED

August

2020

Venue

Time/Details

Mon 31st

Summer Holiday

October

2020

Venue

Time/Details

Sat 31st

Halloween

November

2020

Venue

Time/Details

Sun 8th

Remembrance Sunday

Mon 30th

St Andrew's Day

December

2020

Venue

Time/Details

Fri 25th

Christmas Day

Sat 26th

Boxing Day

Mon 28th

Bank Holiday in lieu of Boxing Day

June

2021

Venue

Time/Details

Fri 25th

Montreal; Canada

Weekend+

July

2022

Venue

Time/Details

Fri 1st

New Delhi

Weekend+

The above dates may change without warning