Reading Lion President Dave Ebsworth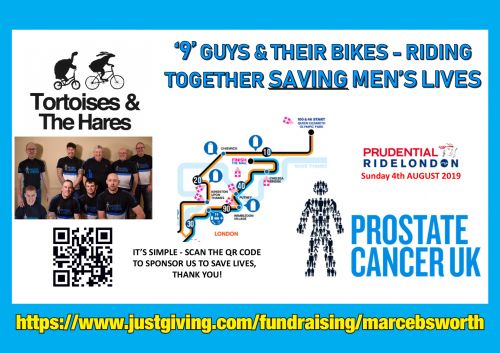 I am part of a team which is called the 'Tortoises & The Hares'. We comprise of a team of lads, me being the oldest at 60 years to the youngest at 23 years who are all taking part in the Prostate Cancer 2019 Charity Cycle event in London on the 4th August 2019.
This is around the 2012 Olympic course, either cycling 100 miles (the Hares!) or 46 miles (the Tortoises!), the team are doing both based around age and ability.
The reason we are doing this event is in 2017 aged 58 I was diagnosed with aggressive Prostate Cancer, which was a huge shock to me and my family. My nephews Marc and Matthew (who both live in Coalville) and some of the team (their workmates) did a 'Tuff Mudder' to raise funds for Prostate Cancer in 2018, and I said I would join them this year to again raise money for the charity, once I had fully recovered from all my treatment.
The team is spread over three counties Leicestershire, Berkshire, and Essex and we must raise a minimum total of £3,500. We have several fundraising events to raise funds i.e. a Quiz night and raffle held on the 11th May and a football match to be held in Coalville on 30th June 2019, between a team where my nephew works and a local side. We are all training hard for this event.
To that end I was wondering if there was some way that you could assist us in our fundraising efforts towards this very worthy cause. I understand that you must receive lots of requests for help but anything you could do to help us would be very much appreciated. We have a JustGiving donation page.
The event accommodation in London, as we are there for two to three days, has been paid for by the members.
If there is anything else you would like to know or require any further information, please do not hesitate to contact me by email dave.ebsworth@lions105d.org.uk.
Thanking you in anticipation…
Dave Ebsworth
13-06-2019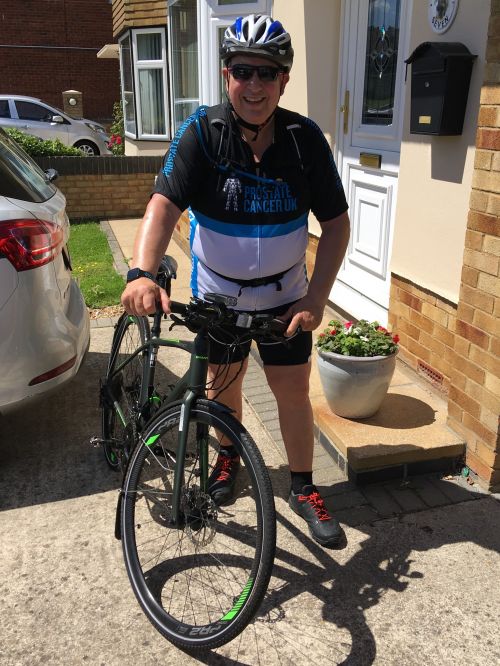 Facebook post 22-06-2019 by Anne:

Very proud of this old man, he's just ridden 37 miles in 3.5 hours in training for the Prostate Cancer London-Surrey 100 cycle ride in August with some of his team mates (he's doing the 50 mile route) - considering all the treatment he's had I admire his effort