DG Blog
What has the DG been up to recently? DG Dave has started keeping a log of club visits etc. Take a look
---
Message from DG Dave Ebsworth
Good morning Fellow Lions & family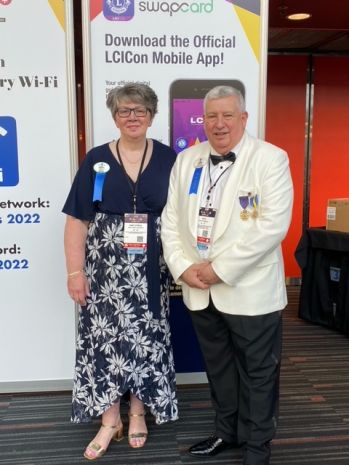 Today we start a new Lionís year, and I hope you will join me in thanking Immediate Past District Governor Brian and Lion Lesley for all they did for the District and hope they enjoyed their year. I know that Covid unfortunately is still with us and hopefully it will start to disappear even more as this year goes on. Our new International President Lion Brian Sheehan and his lovely wife Lion Lori are full of energy and his strap line is "Together we can" and I am sure that the lions of our District 105sc will give it 100% this year. Along the way we must have lots of fun and enjoy the road ahead. Annie and I have attended the classroom lessons and the plenary sessions and there were so many good ideaís shared. I am pleased to announce that Campaign 100 reached £270m ($324m), which was another success and the most that Lions have raised so far in a single campaign.

What I would like to see this year is clubs starting to visit one another, not just within their own Zone but cross over into other Zones and work together in partnership so that we can achieve the goals we set for the individual projects. Therefore you need to record these visits because at Convention 2023 there will be a trophy awarded for the club with the most visits. We are reviewing all of the competitions and hopefully by the end of July they will be listed on the website. I can tell you now that the District team is there to support you, attend and help with events, be it a membership drive, duck racing or any event, but please make early contact so it can be put in the diary.
Young Ambassador, in my eyes is an important competition and I have told Jersey they will have some young Lions to stand against their candidate this year so please lets get out there and find these young people, letís make this yearís competition one to remember, let's give Yorkie a headache with the numbers of candidates.
Please let's get all of our Club and District events into the diary so this will help members when they are planning events and Charters so they donít clash.
My strap line for this year is "Service with Enthusiasm and Pride", so letís make 2022-2023 a year to remember for the right reasons, let's get out there and serve our communities, let's make service count, and let us put Lions on the map.
Thank you for your support
Dave & Annie
---
Partner's project 2022-23
Annie Ebsworth is supporting: My Cancer My Choices - see more details...
---
Handover Lunch 2022
Sunday 10th July 2022
Hilton Garden Inn, Abingdon

District Handover this year was attended by 50 members and partners. The hotel looked after us well and DG Dave presented District Officers with his pin badge together with name badges for the forthcoming year. More...

Special Handover edition of the 105SC Sentinel
---
District Convention 2022
Our first face-to-face District Convention for 2 years was a great success.
See Richard Keeley's Convention Report and the report in the Sentinel
See other photos from the weekend on our Gallery page. Use the drop-down control (top right) to see Host and Banquet photos. More...
Full details are on the dedicated 2022 Convention website.
---
Lions District 105SC DG Team 2022-23
This year's DG Team are DG Dave Ebsworth (Reading Lions Club), 1stVDG David Taylor (Gillingham, Mere and Shaftesbury), 2ndVDG Sandra Manktelow (Petersfield) and IPDG Brian Donovan (Abingdon Lions Club).
---
Becoming a Lion
An Introduction to what it means to be a Lion by Peter Tabb - download the PDF booklet
Projects
Health Awareness programmes, environment, community, youth . Read more...
Useful information for clubs
Health and safety advice, insurance, competitions, awards, publicity and this year's partner's project Oasis - Autistic Society. Read more...
Latest District News
Read the latest District news...

District Newsletter

Council Chair Newsletter

District Officers' Pages
Members can find out who is doing what. District Officers can find useful notes to help with their role. Read more...
Members' Pages
Help logging in, monthly mailings, District Directory, Membership application forms - it's all here...
Other Lions Websites
Looking for MyLci log-in or other Lions Clubs websites or Lions related websites? - Read more...
Forthcoming events
Other calendars:

uk holidays

notable
August

2022

Venue

Time/Details

Sun 28th

Petersfield Lions Toy Tombola Petersfield Festivities

10.00AM to 4.00PM

Mon 29th

Summer Bank Holiday

September

2022

Venue

Time/Details

Sat 3rd

Petersfield Lions Brain Tumour Research Tombola Warsash Fair

10.00AM to 4.00PM

Fri 9th

Petersfield Lions Bridge afternoon

2.00 to 5.00 Cost £50 per table of 4. Booking essential on 01730 265883

Sat 10th

Devizes Lions Diabetes Testing

Devizes Health & Wellbeing Day

Sun 11th

Bournemouth &amp, Christchurch Lions Club Car Boot Sale

from 7.30am

Sun 18th

From 10.00am

Thu 22nd

Zoom

8:00pm

Sun 25th

Great British Beach Clean

16th to 25th

Sun 25th

National Eye Health Week

19th to 25th

October

2022

Venue

Time/Details

Fri 7th

7 for 7:30pm

Sat 8th

Sun 9th

Peterfield Lions Blackmore Apple Fair

10:00AM to 4.30PM

Sun 9th

TBA

10:30am

Thu 13th

World Sight Day

Sun 16th

World Food Day

Fri 21st

Council Meeting

DG & 1stVDG only. Weekend

Sat 22nd

Chippenham Lions Chas &amp, Dave tribute concert

Thu 27th

Europa Forum 2022

Zagreb, Croatia

Th; Fr & Sat

Sat 29th

Woodley and Earley 40th Charter Dinner

Crowne Plaza, Wharfedale Road, Winnersh Triangle, Reading RG41 5TS

Sat 29th

Church Crookham Community Centre, Boyce Road, Church Crookham GU52 8AQ

TBC

Mon 31st

Halloween

November

2022

Venue

Time/Details

Sun 6th

Sun 13th

Remembrance Sunday

Mon 14th

World Diabetes Day

Thu 17th

Zoom

8:00pm

Sat 19th

Calne 50th Charter

Goatacre Village Hall, Goatacre Lane, Goatacre, Calne SN11 9JA

Wed 30th

St Andrew's Day

December

2022

Venue

Time/Details

Sat 3rd

Devizes Lions Christmas Fair

Devizes Corn Exchange

Sun 25th

Christmas Day

Mon 26th

Boxing Day

Tue 27th

Bank Holiday in lieu of Christmas Day

January

2023

Venue

Time/Details

Sun 1st

New Year's Day

Mon 2nd

New Year's Day Observed

Sun 8th

Zoom

7:30pm

Wed 25th

Zoom

8:00pm

Fri 27th

Council Meeting

DG & 1stVDG only. Weekend

Sat 28th

Fleet 49th Charter Dinner

February

2023

Venue

Time/Details

Tue 14th

Valentine's Day

March

2023

Venue

Time/Details

Wed 1st

St David's Day

Fri 3rd

Convention

3:30pm

Sat 4th

District Convention 2023

Weekend

Fri 17th

St Patrick's Day

Sun 19th

Mothering Sunday

Thu 23rd

Zoom

8:00pm

Fri 31st

Brain Tumour Awareness Month

March

Fri 31st

Great British Spring Clean

March

April

2023

Venue

Time/Details

Sat 1st

Devizes Lions Sports Coaching Weekend

1st & 2nd April

Fri 7th

Good Friday

Mon 10th

Easter Monday

Sat 15th

10.00am to 1.00pm

Fri 21st

Warminster Charter Dinner

Sat 22nd

International Earth Day

Sun 23rd

St George's Day

Fri 28th

Council Meeting

MD Convention

DG & 1stVDG only

May

2023

Venue

Time/Details

Mon 1st

Early May Bank Holiday

Thu 11th

Devizes Lions Charity Golf Day

North Wilts Golf Club

Sun 14th

TBA

10:30am including 2024/25 Cabinet

Thu 18th

Zoom

8:00pm

Sun 28th

World Hunger Awareness Day

Mon 29th

Spring Bank Holiday

June

2023

Venue

Time/Details

Mon 5th

World Environment Day

Sun 11th

Devizes Lions on the Green Classic Cars & Family Fun Day

Sat 17th

Diabetes Week

10th to 17th

Sun 18th

Father's Day

July

2023

Venue

Time/Details

Fri 7th

Boston, Massachusetts, USA

Weekend+

October

2023

Venue

Time/Details

Thu 26th

Europa Forum 2023

Klagenfurt, Austria

Th; Fr & Sat

The above dates may change without warning